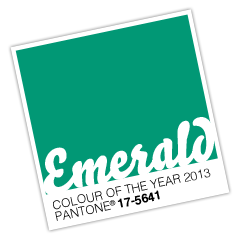 The colour of the year for 2013 is 17-5641 better known to most of us as Emerald. Pantone (who make colour their business) made the announcement earlier this month. It is amazing the world we live in where a 6 digit code can produce a colour. According to Pantone not just any colour "Lively. Radiant. Lush…A colour of elegance and beauty that enhances our sense of well-being, balance and harmony." It is crazy to think they can get all of that from just one colour but it it true to some degree (the way we interpret colour is subjective). Colours can have a direct impact on our physical/mental condition. They can increase our blood pressure and stimulate the nervous system, or slow down our metabolism and increase one's sense of calm just to name a few. Ever wonder why the work out area of some gyms are painted red? It's a strong and aggressive colour that stimulates the nervous system. So apart from making things look great colours play a very powerful roll in the message you want to convey.
So what does colour of the year mean? Well, firstly Pantone 17-1463 aka Tangerine Tango has to hand over the thrown as it was the winner for 2012. Secondly, Emerald will be the trend colour for this year, filtering through all different industries, particularly fashion, interior, beauty and design. We will start to see it appearing everywhere from nail polish right through to appliances.
However, before you jump on the Emerald bandwagon and re-brand everything here is my advice on how to use this trend colour:
Use the trend colour as accents to complement your corporate colours, don't change your corporate colours. Your corporate colours are an investment as you have brand recognition. Colourful Emerald decals in a storefront advertising New Stock, Sale or Percentage reductions is a way of using the colour effectively. The same principle can be used in print and other media.
Use the colour to promote for example a new product, service, devision or competition that way the life cycle can match up with the next trend colour. More than likely in 2014 there will be something new you would want your company to promote so you can then take advantage of the next trend colour.
Just because it is a trend colour doesn't mean you have to instantly start using it. Certain industries are expected to be on trend (retail and fashion) for example, however, other industries for example the corporate financial sector are not so much. If using the colour conflicts with your company's style guide and corporate identity then don't use it.
Remember colour is great but don't go overboard using it as it will lose its impact.
To find out more about the colour of the year and how Pantone find their winner click here to visit their website.
Is your business image a little out of date? Contact us to see how we can get your business back on trend.